Essential Insurance Wins At The Legal & General Business Quality Awards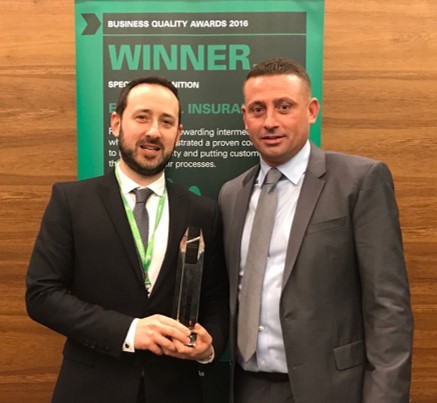 Legal & General have just announced the winners of its 6th annual Business Quality Awards (BQAs) and we're delighted to be named a winner!
Legal & General are the UK's No 1 life insurance provider1 and they launched these awards in 2011 to recognise the hard work IFAs and Network Advisers have demonstrated towards the retention of protection business and exceptional levels of customer service.
We are one of the UK's largest life insurance brokers, with a reputation for offering first-class customer service and we always strive to do better. We put our customers first and we invest heavily in our operating systems and our employees to provide an experience that is truly appreciated by our customers – we've created a genuinely customer-centric way to conduct business.
We're thrilled to win the Special Recognition Award and proud that our achievements have been recognised by Legal & General. In a statement, a member of the judging panel said, "Essential Insurance have one of the most intensive and prolific adviser training courses available, resulting in their customer satisfaction scores on feefo2 being one of the highest recorded by any protection broker."
We'd like to take this opportunity to thank the whole team at Essential Insurance and all our customers for supporting us since we launched our business in 2015. We're committed to delivering exceptional customer experiences and feedback indicates we're getting our service right!
Rob White, Director at Essential Insurance, respectfully adds, "We are delighted to win the L&G Special Recognition award in this year's Business Quality Awards. At Essential Insurance, our customers are at the heart of everything we do and this award highlights our hard work and dedication to providing outstanding customer service."
1) Based on new individual Life Insurance sales in 2015, Term & Health Watch Report 2016, Swiss-Re. 2) Feefo is a trusted provider of ratings and reviews that presents genuine feedback from customers.